Welcome to the entire database of Space Monsters Wiki
Space Monsters Wiki is an original off-shot of Planet Aegius Wiki. And it's all about the series of top-down shooter games and lists spin-offs, main games, characters, monsters, bosses and a lot more! Since this is a wiki, you're free to add and change information on Space Monsters series here. There are currently 1 active users, 203 files, 62 articles and 3,325 edits to make this wiki grown up since July 2013. Anyway, welcome to the resistance headquarters and I hope you guys enjoy!
WARNING: Some contents are not suitable for underage people.
Come and assist us the contributions!
Before you sign up and contribute here, please remember the rules and regulations first.
Every article stubs need help of improvement to be created.
When you create a page, follow the template manual about the structures of characters, cases, games, people etc.
To create a new page, fill this in and you are ready to set.
Featured Article
Space Monsters is an open-source futuristic top-down shooter game that it will be made with Game Maker 8 and the first game of the series would be released in 2013 by Psonic, the fan team. However, it was moved to 2015 due to its creator's independent difficulties. Also it was a titular reference to Taito's 1972 mechanical game but it was renamed as Space Invaders by Mr. Nishikado's video game theory. And that what we call an inspiration of Alien Shooter, Alien Breed, Crimsonland, Space Invaders, Alien Swarm, Half-Life, Doom and The House of the Dead. (more...)
Links
Index
Help & Frequently Asked Questions (FAQs)
Affiliates
Latest activity
Photos and videos are a great way to add visuals to your wiki. Find videos about your topic by exploring Wikia's Video Library.
Associated Links
1. Space Monsters Tribute Site
2. Space Monsters Forums
3. DeviantArt Group Page
4. YouTube Channel
5. Facebook Page
Recent forums
Poll of Resistance
What type of these creatures you would like to fight against?
Community Blogs
Create blog post
Recently posted
Billmore Hawkins
Axl Jet
Gas Masck
Carole Rogan
Barris Lost
Sam Ramsen
Rina Stock
Voltrex
Guerrilla Gorill
Roxanne Foxy
Metal Commando
Kevin Abraman
Guy Rawkins
Josh Celton
Butch Coby
Aip Orang

Read more >

General Baxter - Troy Baker
Billmore Hawkins - David Vincent
Josh Celton - Matthew Mercer
Sam Ramsen - Kari Wahlgren/Caitlin Steel
Deck Homwell - Edward Bosco
Brake Andrens - Brian T. Delaney
Rina Stock - …

Read more >
See more >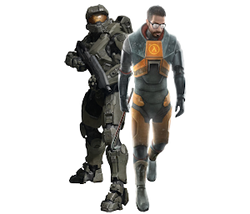 Shooter Games
Go to these sites for info or for help with your own wiki!
Agents of Mayhem • Battleborn • Battlefield • Borderlands • Breakaway • Call of Duty • Counter-Strike • Counter-Strike Online / Counter-Strike Nexon: Zombies • Critical Strike Portable / Critical Ops • CrossFire • Crysis • Destiny • Diabotical • Doom • Duke Nukem • Far Cry • Gears of War • Half-Life • Halo • Killzone • Max Payne • Medal of Honor • Overwatch • PAYDAY • Pixel Gun • PLAYERUNKNOWN's Battlegrounds • POSTAL • Prey • Quake • Red Faction • Resistance • SAS: Zombie Assault • Shadow Warrior • Spec Ops • Splatoon • Star Fox • Star Wars: Battlefront • TimeSplitters • Titanfall • Tom Clancy's Ghost Recon • Tom Clancy's Rainbow Six • Turok • Warface • Wolfenstein
Want your community included? See how!

Ad blocker interference detected!
Wikia is a free-to-use site that makes money from advertising. We have a modified experience for viewers using ad blockers

Wikia is not accessible if you've made further modifications. Remove the custom ad blocker rule(s) and the page will load as expected.